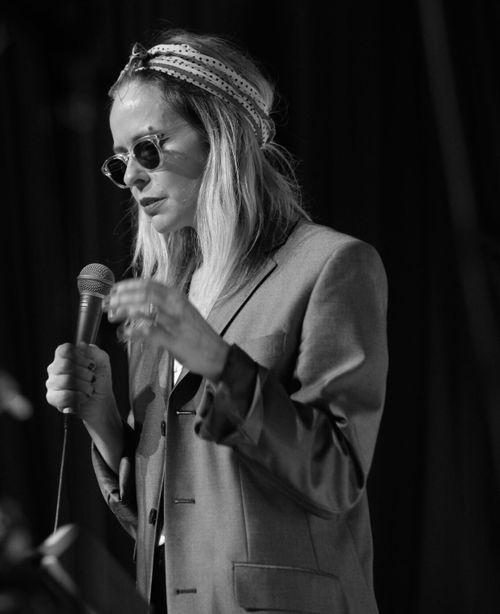 "Kate Neckel has never been bound by the traditional confines of canvas and paper." The New York Times
Kate Neckel's work has been exhibited in galleries nationwide and in the documentary, "House of Z". In addition, she has created drawings for books, magazines, bands, billboards and has a limited edition collection with The Prospect NY. Kate is also the author of Start Now! The Creativity Journal.
Kate and her drawings have been featured in publications including Vogue, Vanity Fair, Rolling Stone, Fast Company, GQ among others. Neckel's paintings and drawings have been commissioned for the walls of private residences as well as public spaces, such as The New York Times, Viyet/Sotheby's Home and the Ace Hotel NYC.
From a fortuitous stint in Paris where she found herself documenting skateboarders and fashion designers, to art school, to assisting David Byrne and documenting the beginnings of Zac Posen's career, she has consciously carved out her own unique path. In 2018, Kate started collaborating with lead guitarist Mike McCready of the Rock & Roll Hall of Fame inducted Pearl Jam and co-founded Infinite Color & Sound, an interactive art and music project. Their run of shows included Winston Wachter Fine Arts, The Seattle Art Fair, PublicArts at Public Hotel NYC, Peak to Sky Festival and SeaHearNow Festival.
ABOUT THE ARTIST
Kate Neckel earned her BA from University of Maryland at College Park, and her MFAs from the Maryland Institute College of Art and the School of Visual Arts in New York. A resident of New York for seventeen years, she now makes her home in Seattle with her family.
Recent Exhibitions
2019 Infinite Color and Sound, Seattle Art Fair, Seattle, WA
2019 Infinite Color and Sound: SWAY, Winston Wachter, Seattle, WA
2018 KATE NECKEL: Stories, West Gallery, Winston Wachter, Seattle, WA
2018 Seattle Art Fair, Winston Wachter, Seattle, WA