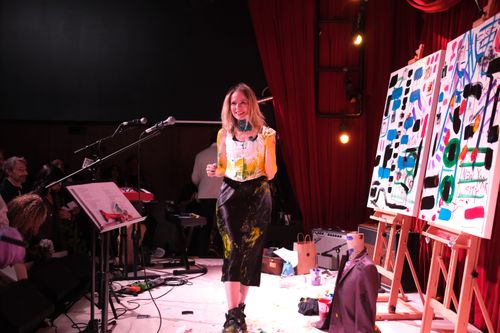 "Kate Neckel has never been bound by the traditional confines of canvas and paper." The New York Times
Kate Neckel is an artist, collaborator and musician. Neckel's artwork has been exhibited in galleries, on stages and featured in national and international campaigns, projects and limited-edition lines. In 2019, Neckel launched her music career when she collaborated with Rock and Roll Hall of Fame lead guitarist from Pearl Jam, Mike McCready and formed Infinite Color & Sound, an interactive art and music exhibition with a limited run of live shows that included onstage collaborations with the legendary photographer, Danny Clinch and former Red Hot Chili Pepper, Josh Klinghoffer. Early in her career she assisted David Byrne, worked with Dustin Yellin and documented the beginning of Zac Posen's career, the footage appears in the film House of Z. Her work has been featured in Vogue, Vanity Fair, Rolling Stone, Dwell, The Oprah Magazine, Fast Company, GQ, Luxe Interiors and Design among others. She has been commissioned by and collaborated with private and corporate clients, including athletes, musicians, business leaders, The New York Times, Sotheby's Home and the Ace Hotel New York. She is also the author of Start Now! The Creativity Journal. Kate's band, The Copper Trees was named one of the "Five to Discover: Acts You Need to Know" by American Songwriter and their debut album, "Rêver" is available on all platforms.
Kate Neckel earned her BA from University of Maryland at College Park, and her MFAs from the Maryland Institute College of Art and the School of Visual Arts in New York. A resident of New York for seventeen years, she now makes her home in Seattle with her family.
Recent Exhibitions
2019 Infinite Color and Sound, Seattle Art Fair, Seattle, WA
2019 Infinite Color and Sound: SWAY, Winston Wachter, Seattle, WA
2018 KATE NECKEL: Stories, West Gallery, Winston Wachter, Seattle, WA
2018 Seattle Art Fair, Winston Wachter, Seattle, WA